Ultra Speaker Cable

Ultra speaker cable features heavy 11 gauge conductors instead of the standard 15 gauge. Bass response is improved with a rich, harmonic, full presentation and increased volume. You will also appreciate a more controlled solid feel when playing.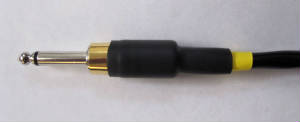 Snuffer - AC Power Line Conditioners
The first in a new line of Audio Products -- Mulder Audio Snuffers are passive line filters that you plug into unused receptacles in a "circle" around your listening space, as close as possible to your system. A second set of three can be placed outside your listening space near computers and kitchen appliances for even further noise reduction. Sonically, You will notice a more refined, cleaner presentation with a blacker background and additional space between instruments.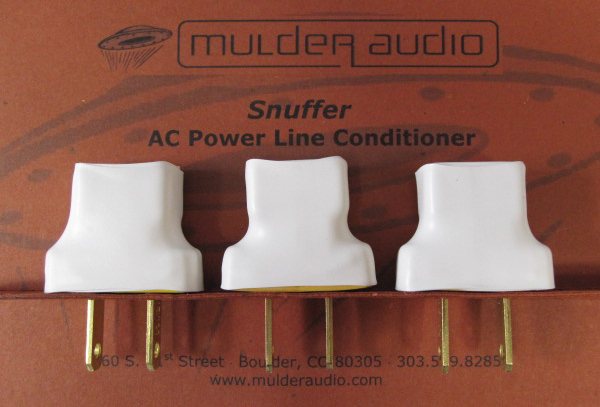 Save 10%!
The Gear Page members receive a 10% discount on any order!
X-Pedal cables improved and price reduced!
X-Pedal cables now feature gold plated G&H Connectors and shielded silver plated copper wire for even better sound at a new lower price!
Mulder Audio X-Cables at NAMM!
We want to thank Peter Stroud of the Sheryl Crow Band and all the great guys at 65amps for featuring Mulder Audio X-Head/Cab cables at NAMM! Connecting the new 65-Marquee Club 35 watt Head and Cab., 65amps and Mulder Audio were getting one of the best sounds of the show!
Carter Gravatt of Carbon Leaf
"I could not be more blown away by the Mulder speaker cables. They really let your amp breathe and bring out it's truest tone. From my old Marshalls to my Blackface Fenders, the results are always amazing. They help tighten the low end and allow for a really nice harmonic high. If you are serious about your tone, these speaker cables are a link that you can't afford to miss."
"The Mulder Pedal cables are amazing. I run a fairly large pedal board and have been adding Mulder patch cables in over the last few months. No matter where you put them, they will make a difference. I have found that they are great for connecting distortion boxes and delays. I think that my two delay boxes (old memory man and a Replex) work together far better now. But just one will help your tone. I actually use one to jump the channels on my old Marshalls, and it makes a huge difference. I can only hope that Gary will start making instrument cables soon and save us all."


More pictures in the X-Cable Gallery!
X-Pedal cable now available with smaller gold-plated connectors! Perfect for fitting into tight pedal boards!
Based on your feedback we have redesigned the X-Pedal to be more user-friendly. With its small gold-plated right-angle 1/4" phone connectors, the X-Pedal can be easily maneuvered into those tight spaces available in crowded pedal boards. The new X-Pedal sounds even more transparent, clean, clear and open! Still starting at just $39.95

From Stereophile Magazine!
"Mulder Audio X-cables: Gary Mulder, familiar to many audiophiles from Ayre Acoustics, has resurfaced with a company that produces high-end musical instrument cables: Mulder Audio. We haven't heard 'em yet, but they look interesting and include a triple-shielded stomp box cable that ought to tame that spaghetti monster on our pedal board, as well as cables specifically designed for Fender Super Reverbs, Princetons, and Super Champs. Given Mulder's prowess as a system set-up perfectionist, we expect these'll create quite a buzz -- we mean won't create any buzzes."

"Sheesh, you know what we meant."

New Models
With your help we are always coming up with new models and configurations. So keep those suggestions rolling in!